Your customers are already all over the social media channels. Facebook. Twitter. Insta. YouTube. If you're not hitting them where they are, by the time you realize your brand is already in their review mirror it could be too late.
Even if you've resisted the rush to social media advertising, the game is what it is. The platforms we are we using to update friends and relatives on what's up with the fam is exactly where you should be targeting.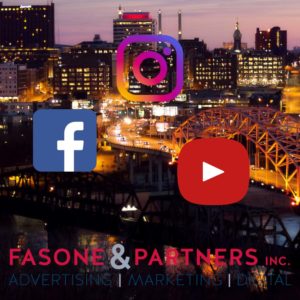 Social media marketing is no longer a trend. It's becoming essential for a brand to remain relevant. It's not only one of the most cost-efficient to reach new customers but helps establish long-lasting connections that extend into real-life business ventures and partnerships between you and your customers, clients, vendors, and distributors. Engaging with your with customers online is a great way to build your brand and really let your personality take shape, share your goals and ideals with potential customers and target the demo you want. Get feedback. Be responsive. Get your customers talking about you.
Connecting locally is another benefit of social media advertising. Sure, everyone wants to go viral, go national, worldwide even but in order to go big you need to first connect with your community and the audience of people you want walking through your door. A smart social media marketing strategy will highlight the strengths of your brand so can engage with the right audience in order and increase visibility, generate leads, and promote business growth in the market.
At Fasone and Partners we approach each client as an individual. Every business has a different objective for success, and we want to help your brand reach its full potential. Let's get your name out there where it belongs.