Streaming TV won't be ad-free for much longer
Right now, viewers are loving streaming services because most of them are either ad-free or offer some sort of ad-free option. And for those people who don't want anything to do with ads, they have proven they're willing to pay a little extra to avoid commercials interfering with their latest binge.
Peacock and Hulu are already offering multiple subscription tiers with various levels of ad exposure. And not long ago, Disney+ announced plans to offer a lower cost subscription that will include ads. This is expected to happen by the end of the year. It's only a matter of time before they all follow suit.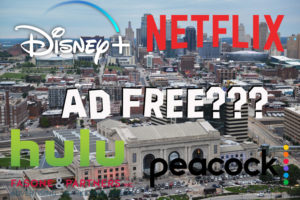 Even the streaming king, Netflix, has said while they have no plans right now to add commercials (for now), they're playing the "never say never" card on the possible future of having Stranger Things season 5 being brought to you by the Ford Motor Company.
The bottom line is streaming services are not a fad. Like them or not, this is the present and future of entertainment viewing, and it's why none of them can afford to stay in the "ad-free" business for too long. It just doesn't make financial sense.
The big guns, namely Netflix and Disney, are already having trouble increasing subscription numbers. Let's face it, just about everyone in North America is already getting their Netflix fix. One way to increase revenue is to start hiking up that monthly fee, but then they risk viewers jumping ship until it's time for The Mandalorian or Ozark to come back.
They're all producing more and more content and if people want to be able to see the latest series in the Marvel Cinematic Universe, viewers will have to start paying for the privilege to watch without ads. This will, for now, help control monthly subscription prices but make no mistake. Ads are coming to your ad-free streaming services.
This is the time to get in on the streaming bandwagon. More and more people are watching content on streaming services and if streaming is certain to take over what we used to know as linear television viewing, it's going to have to happen in a world where ad-free is no longer a thing.
Find out how we can help you find your niche in the streaming ads world. Your customers are already watching. Time to get your stream your brand.